Secure and Swift: KarmaLife's Earned Wage Access Empowers Your Workforce with Safe and Quick Credit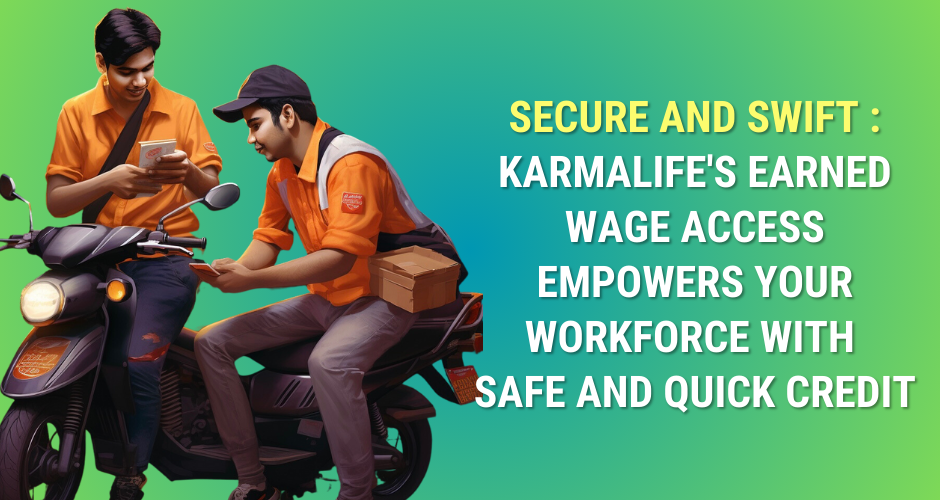 In the realm of financial technology, innovation is key to unlocking new possibilities and improving the lives of individuals and businesses. One such groundbreaking solution in the fintech sector is Earned Wage Access (EWA). KarmaLife, a leading fintech platform, has revolutionized the concept of EWA, offering a safe credit solution for companies and their workforce. In this blog post, we will explore how KarmaLife's EWA empowers employees and provides them with the financial flexibility they need, all while ensuring security, safety, and convenience for both employers and employees.
Understanding Earned Wage Access: Earned Wage Access is a game-changer in the world of employee compensation. Traditionally, employees have had to wait for their monthly or bi-weekly paychecks, leading to financial stress and sometimes resorting to costly short-term loans. With EWA, employees can access a portion of their earned wages before the scheduled payday, enabling them to manage unexpected expenses and allow them access to safe credit.
Safe credit of KarmaLife's EWA: Security is of paramount importance when it comes to financial transactions. KarmaLife places great emphasis on safeguarding personal and financial information. Their platform leverages advanced encryption technology and follows stringent data protection protocols to ensure that all transactions are secure and confidential. By partnering with trusted financial institutions and adhering to industry best practices, KarmaLife provides peace of mind to both employees and employers. With their commitment to safe credit, employees can confidently access their earnings when they need them most.
Streamlined Integration with Payroll Systems:Karmalifeunderstands the importance of simplicity and ease of use. Their EWA solution seamlessly integrates with existing payroll systems, minimizing administrative burdens for companies. With a user-friendly interface, employees can conveniently access their earnings, review available balances, and request funds with just a few clicks. This streamlined process enhances efficiency and reduces paperwork, creating a win-win situation for all parties involved. The quick credit offered by KarmaLife ensures that employees can swiftly access the funds they require without unnecessary delays.
Financial Wellness and Empowerment: KarmaLife's EWA is not just about quick access to earned wages; it's about empowering employees and promoting financial wellness. By granting workers control over their finances, they can better manage their budgets, avoid late payment fees, and escape the vicious cycle of debt. Additionally, KarmaLife offers financial literacy resources, ensuring that employees make informed financial decisions and improve their long-term financial well-being. With the safe and quick credit provided by KarmaLife, employees can confidently navigate their financial obligations.
Responsibly Managing Cash Flow: Companies often face challenges related to cash flow management. With KarmaLife's EWA, employees can access their earnings on-demand, reducing the need for emergency salary advances or costly payroll adjustments. By leveraging this innovative solution, businesses can enhance employee satisfaction, increase retention rates, and attract top talent. The seamless integration of KarmaLife's EWA into the company's financial ecosystem facilitates smoother operations and promotes a positive work environment. With safe and quick credit options, KarmaLife helps companies maintain a steady cash flow while supporting their workforce.
Our USP :In the fintech sector, compliance with regulatory frameworks is crucial. KarmaLife ensures that their EWA solution is fully compliant with relevant laws and regulations. By partnering with financial institutions and following industry standards, they provide a safe and transparent service that adheres to all necessary guidelines. Employers can have confidence in KarmaLife's commitment to legal compliance, minimizing any potential risks associated with offering EWA to their workforce. With KarmaLife's safe credit options, companies can provide financial benefits to their employees without compromising on regulatory compliance.
KarmaLife's Earned Wage Access is transforming the way companies provide financial flexibility to their employees. By offering a safe and quick credit solution, KarmaLife empowers workers, promotes financial wellness, and eases the administrative burdens for employers. With their commitment to security, safety, and compliance, KarmaLife stands out as a reliable partner in the fintech space. Embrace the future of employee compensation with KarmaLife's EWA and unlock new opportunities for your workforce's financial empowerment through safe and quick credit solutions.
Email us at contact@karmalife.ai today to unlock financial freedom for your employees.FAQs:
1. How much funds will a user be able to access?
A: KarmaLife Earned Wage Access (EWA) is linked to a user's monthly earnings, which can be checked in the KarmaLife app.
2. When will a user receive their amount?
A: The amount will be credited into a user's bank account within 4 hours after the transaction is initiated. However, in some rare cases, it might take up to 48 hours.
3. What if a user pays directly and it gets deducted from their salary too, resulting in paying twice?
A: This is a rare occurrence, but if it happens, the user should report the issue to KarmaLife and they will refund the amount.
4.What happens after the weekly/monthly repayment is made? Will a user get more funds?
A: KarmaLife will replenish a user's account after receiving their earlier outstanding, so they will be able to utilize the safe and quick credit on a monthly/weekly basis through Earned Wage Access (EWA).
5. How secure is the information provided by a user?
A: Any information provided to KarmaLife to avail Earned Wage Access (EWA) is safe and secure, and they do not share it with any third party. The user can refer to KarmaLife's Terms of Use and Privacy Policy in the app for details.
6. Can someone use a user's KYC ?
A: The user needs to provide their KYC as part of the KarmaLife app setup to avail Earned Wage Access (EWA). Once it is set up, no one has access to the user's KYC details and no one else can use it.
7. Where can a user find their Bureau/CIBIL report?
A: KarmaLife recommends downloading the Bureau reports from the official website of CIBIL, Equifax, Experian, or CRIF. They advise against using third-party apps as they might have older data which might not be accurate.
8. How much time does any change take to reflect in the Bureau?
A: After KarmaLife reports to the Bureau, it can take up to 45 days for the change to reflect in the Bureau report.
9. Can money be transferred to someone else's account?
A: The user has to set up the bank account as part of the KarmaLife application for registration to avail Earned Wage Access (EWA) , and the bank account details should match with KYC details. Once the bank account is validated, then transfer will happen only to that bank account. It is not possible to transfer the amount to some other bank account.
10. How does a user repay the credit they use?
A: The used credit through Karmalife's Earned Wage Access (EWA) will be auto-deducted from the user's weekly/monthly earnings and will reflect in their salary statement. The loan repayment will be deducted from their earnings and the net amount will be made available to them by their employer. The user can also repay directly from the app itself using Google Pay or any other UPI apps listed in the KarmaLife app.
11. Will a user be charged an interest rate for using credit?
A: There is no interest on the credit or any hidden charges while using Earned Wage Access (EWA). KarmaLife charges a flat fee for each cycle the user may withdraw.
12. Can a user trust the KarmaLife app? Where do their funds come from?
A: Yes, KarmaLife' Earned Wage Access (EWA) is fully compliant with RBI guidelines and has tied up with the user's employer to provide them with safe credit. The user's funds are facilitated by LenDenClub, owned and operated by Innofin Solutions Private Limited, which is the RBI-registered NBFC-P2P.
13. How safe is the KarmaLife app?
A: The KarmaLife app is CERT-In and VPAT certified, making it a very safe app to use. If a user's question is not answered here, is there a helpline they can reach out to?